Case Study: CallCare automatic phone dialing
Download the CallCare case (ASP files + database)
---
1. Background
CallCare is a call center with 30 employees. The call center is hired by one of the largest newspaper companies in the UK for marketing purposes. This press company asked CallCare to actively chase after new readers.
CallCare has a large database of potential customers and their telephone numbers. CallCenter's task is to call these potential customers by regular phone, and ask them if they are interested in a fee newspaper subscription for one month.
---
2. Problem Statement
The call center-agents make a few hundred phone calls a day. The phone numbers are offered in an Excel worksheet.
For each new phone call, the agent needs to press down the phone number buttons manually on the phone.
The current system has the following disadvantages:
The call center agents spend a lot of time on dialing the numbers; they read it from screen and manually type it in on the phone;
The call center agents easily make mistakes; they often dial the wrong number;
It takes a lot of time to see whether a customer has been contacted or not;
It takes a lot of time to create a list of phone-numbers that the call center-agents need to call that day.
---
3. Goals of the new System
Goals of the new system are:
No more manual dialing; dialing a number should be a matter of clicking one button on the screen;
A central database with all phone numbers the agents need to dial;
Ability to get an overview of outstanding phone calls and completed phone calls;
Plain old telepfone devices should be replaced by a modern headset;
Call dialing should be logged.
---
4. Design
Client Side vs. Server Side
The system consists of server side and a client side.
Server side (database) - To make sure every user is able to access his or her phone calls on any computer in the building; we're using an ASP based web-interface. We're using a simple Access database to fetch the customers the employees need to call. The ASP pages query the database and produce HTML code for the agent's borwser.

Client side (dialer) - The agent uses a voice modem with a headset, connected to the local PC. The agent access the system using their browser. They query phone numbers through the ASP pages and receive the telephone numbers they need to call. The call is made on the client (i.e. workstation). This workstation uses JavaScript embedded in HTML (produced by the ASP pages) to control the modem to make an outgoing call.
ActiveXperts Serial Port Component
To create a system that is able to make phone calls, Serial Port Component is used on the client side to access the modems attached to the agent's workstation. This makes it easy to create a system that makes a modem execute commands and log everything that happens.
---
5. Server Side implementation
Database
To make a phone call, we need a phone number. The phone numbers are stored in a database on the server. We're fetching the information with ASP. ASP creates a HTML source code that is sent to the client.
We're setting up a database that contains customer information like the address of customers, their telephone numbers, and so on. We also want to store user or employee information like the usernames and passwords. We also need to know what customers the employee needs to call. Thats why we're having 3 different tables and one query:
Employee
Customers
Callist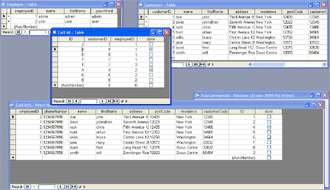 (Click on the picture to enlarge)
We're also creating a query so we can fetch all the required information from just one table. The query looks like this

SELECT CallList.employeeID,
Customers.phoneNumber, 
Customers.name, 
Customers.firstName, 
Customers.address, 
Customers.postCode, 
Customers.residence, 
Customers.customerCode, 
CallList.ID, 
CallList.done
FROM Customers INNER JOIN CallList ON Customers.customerID = CallList.customerID;

We're calling this query "CallListQ". CustomerID is the primary key. We're mainly accessing this "table".
ASP
To get the database and the modem combined in a web interface we're using ASP and JavaScript. Because every employee has to dial the phone-numbers individually we're building that part in JavaScript. The entire solution contains 5 scripts:
counter.js
This script is displayed on the bottom of the page
AxSerialPortDailer.js
This script is displayed on the bottom of the page
login.asp


<HTML>

<HEAD>
  <link rel=stylesheet href=style.css>
  <TITLE>Please log in!!</TITLE>
</HEAD>

<BODY>

<% 

if request("submit") <> "" then
  Session( "username" ) = request("username")
  Session( "password" ) = request("password")
  Response.Redirect "index.asp"
else
  Response.Write("<b>Please fill in your username and password....</b>")
  Response.Write("<br><br>")
end if


%>

<form action=login.asp method=post>
 Username::<input name=username type=text><br>
 Password::<input name=password type=password><br>
 <br>
 <input name=submit type=submit value="Fill in my username and password!!"><br>
</form>


</BODY>
</HTML>


<%

Function GetRootDir() 
  strFile = server.mappath( "\dummyfile" )
  arr = split( strFile, "\dummyfile" )
  GetRootDir = arr( 0 )
End Function


strDatabase = GetRootDir() & "\YourCommercial.mdb"
Set objConn = Server.CreateObject("ADODB.Connection")
objConn.Open "Driver={Microsoft Access Driver (*.mdb)}; DBQ=" & strDatabase & ";"

%>


<% call checkUsernameAndPassword() %>


<html>

  <head>

    <title>Callcenter YourCommercial Webinterface</title>


    <link rel=stylesheet href=style.css>


    <object id="objComport" codeBase="https://www.activexperts.com/files/serial-port-component/AxSerial32.dll" 
        classid="CLSID:07ECB42B-322A-40B9-A8A9-3815AF3C4F60" viewastext></object>
    <script language="JavaScript" type="text/javascript" src="counter.js"></script>
    <script language="JavaScript" type="text/javascript" src="AxSerialPortDailer.js"></script>

  </head>

  <body>



  <b>Controlecenter:</b>
   <table>
    <tr>
      <td style="border: 0px solid white;">

         Logged in as: 
         <font color=red>
             <b>
               <% = session("username") %>
            </b>
         </font>
          
         ( <a href="logoff.asp">log me off</a> )

      </td>
      <td>
         <center>
            <font color=red>Modem is on</font>
            <b> COM</b>

            <select size="1" name="comport" ID="Select1"></select>
            
            <script language="JavaScript" type="text/javascript">

              
              nCount  = objComport.GetDeviceCount ();
              
              for ( i = 0 ; i < nCount ; i++ ){
                  comport.options [ i ] = new Option ( objComport.GetDevice ( i ), "" );
              }

              for ( i = 1 ; i < 9 ; i++ ){
                  comport.options [ i + nCount - 1 ] = new Option ( "COM" + i , "" );
              }

            </script>

         </center>
      </td>
    </tr>
    <tr>
      <td colspan=2>
         <center>
           <br />
  
           <font color=red>Microphone volume:</font>
              
           <b>
              <a onclick="micSofter()" style="cursor: pointer;"><< Decrease</a>
                |  
              <a onclick="micLouder()" style="cursor: pointer;">Increase >></a>
           </b>
           <br />
      
           <font color=red>Speaker volume:</font>
              
           <b>
             <a onclick="speakerSofter()" style="cursor: pointer;"><< Decrease</a>
               |  
             <a onclick="speakerLouder()" style="cursor: pointer;">Increase >></a>
           </b>
           <br />
      
           <font color=red>Hang up:</font>
              
           <b>
              <a onclick="hangUp()" style="cursor: pointer;">Hang up the phone</a>
           </b>

           <br />
           <br /> 
      
         </center>
       </td>
     </tr>
   </table>

  <br>



  <% call isPhoneCallFinished() %>

  
  

  <b>Calls to be made by <% = session("username") %>:</b><br>
  <% call display(session("userID"),false) %>

  <br><br>

  
  
<!-- display the completed calls -->
  <b>Completed calls by <% = session("username") %>:</b><br>
  <% call display(session("userID"),true) %>


 </body>
</html>






<%

sub display(employeeID,done)

  ' first of alle we're going to collect only the calls the current user needs to make
  'the query
  strQuery = "SELECT * FROM CallListQ WHERE employeeID=" & employeeID & " AND done=" & done

  'execute the query
  set RS = objConn.Execute( strQuery )

  'open a table tag to display the information in a table:
  response.write("<table cellspacing=0 cellpadding=0>")
  
  'echo the information
  while not RS.EOF

%>     


<tr>

 <td> <% = RS("name") %>, </td>
 <td> <% = RS("firstName") %> </td>
 <td> <% = RS("address") %> </td>
 <td> <% = RS("postCode") %> </td>
 <td> <% = RS("residence") %> </td>
 <td> <% = RS("customerCode") %> </td>
     
 <td>
   <form method=post action=index.asp>

      
      
      

      <% if RS("done") = false then %>

        <input type=button onclick=<% = "dial('" & RS("phoneNumber") & "')" %> value="Dial <% = RS("phoneNumber") %>">
        <input type=hidden name=id value=<% = RS("ID") %>>
        <input type=submit name=submitbutton value=Done!>

      <% else %>

        <input type=hidden name=id value=<% = RS("ID") %>>
        <input type=submit name=submitbackonlist value="Put back on list">           

      <% end if %>

    </form>
  </td>

<tr>

<%

  
  RS.MoveNext

  'close the loop
  wend

  'close the table tag
  response.write("</table>")

'close the sub
end sub

%>








<%

sub isPhoneCallFinished()

  if request("submitbutton") <> "" then

    
    ID = request("ID")

    'the query
    strQuery = "UPDATE CallList SET done=true WHERE ID=" & ID

    'execute the query
    set RS = objConn.Execute( strQuery )

  else
  end if

  if request("submitbackonlist") <> "" then

    
    ID = request("ID")

    'the query
    strQuery = "UPDATE CallList SET done=false WHERE ID=" & ID

    
    set RS = objConn.Execute( strQuery )

  else
  end if


end sub

%>







<%

sub checkUsernameAndPassword()
  
  dim userOK

  
  if session("password") = "" then
     response.redirect "login.asp"
  else
  end if

  
  if session("username") = "" then
     response.redirect "login.asp"
  else
  end if

  
  'first collect the users
  strQuery = "SELECT * FROM Employee WHERE firstName='" & session("username") & "'"
  set RS = objConn.Execute( strQuery )

  
  userOK = "notOK"

  while not RS.EOF

     
     if RS("passWord") = session("password") then
       userOK = "OK"
       session("userID") = RS("employeeID")
     else
       userOK = "notOK"
     end if

    
    RS.MoveNext

  'end of the loop
  wend

  
  if userOK = "notOK" then
    response.redirect "login.asp"
  else
  end if


end sub

%>
<font size=1 color=red>This sample is using Serial Port Component.</font>


<%

session("username") = ""
session("password") = ""

response.redirect "login.asp"

%>

---
6. The Client Side (JavaScript, controlling the voice modem)
The main thing in this project is controlling the modem using AT commands. To set up a connection to another telephone actually means to send several commands to the device.
With the sample program "Query device" witch is shipped with Serial Port Component, you're able to send and test these commands.
To switch the modem in the right mode we're using the following commands (the commands are explained below):

AT#CLS=8 or AT#FCLASS=8
AT#VLS=6
AT#VRN=0

First of all we need to set the modem in sound mode. To do that, depending on the type of modem, we need to execute the command "AT#CLS=8" or "AT#FCLASS=8". The modem will reply "OK" and "h", witch means the modem is off hook.
Now your modem is ready to make a call but is not yet able to make a so called "voice call". To make a voice call we need to switch on the speakerphone mode. This simply means you're switching on the microphone and the speaker. Therefore we need the VLS command. To check if your modem is supporting speakerphone and at the same time switching it on you need to execute the AT command "AT#VLS=6".
After that we're setting the "Ringback Never Came" settings. To set these settings, we need the AT command "AT#VRN". This command knows the values 0 till 255. The value represents the value multiplied by 100 milliseconds the modem will wait before it switches to online voice mode. We want the device to be in online voice mode immediately, so we're using the following command: "AT#VRN=0".
Now we're able to make a phone call. You can dial a number using the command ATDT like "ATDT0.phonenumber". The modem will reply "VCON" and you'll hear the phone ringing. If someone picks up the phone you are able to talk to him and hear him.
You can hang up the phone using the command ATH of ATZ.
All settings will now be reset to default.
This makes the complete set of commands to make a phone call look like this:

AT#CLS=8 or AT#FCLASS=8
AT#VLS=6
AT#VRN=0
ATDT0,0123456789
ATH

Because this needs to be done on the clients computer, we need to generate a source file that accesses the modem. Therefore I created the following source files:


var mute;
var speaker;
var mic;


mute = 1;
speaker = 5;
mic = 1;




function micLouder(){
  
  if(mic < 3){
    mic = mic + 1;
  }
 
  
  result();


}



function micSofter(){
  
  if(mic > 0){
    mic = mic - 1;
  }

  
  result();


}



function speakerSofter(){

  switch(speaker){
    case 0:
      speaker = 5;
    break
   
    case 5:
      speaker = 15;
    break

    case 15:
      speaker = 16
    break
  }  

  
  result();


}



//################## Function to turn up the volume ############################

function speakerLouder(){

  switch(speaker){
    case 5:
      speaker = 0;
    break
     
    case 15:
      speaker = 5;
    break
     
    case 16:
      speaker = 15
    break
  }

  
  result();


}

//################# Function result to execute the SPK command #################

function result(){

  strResult = "AT#SPK=" + mute + "," + speaker + "," + mic;
  objComport.WriteString(strResult);


}




function dial(telephonenumber){
      
      
      //If property LogFile is not filled in, it won't be created..
      objComport.Device              = comport.options [comport.selectedIndex].text;
      objComport.BaudRate            = 115200;
      objComport.ComTimeout          = 2000;
      objComport.LogFile             = "";

      
      objComport.Open();

      
      if(objComport.lasterror != 0){
        window.alert("Failed to dail!\n " + objComport.lasterror + ":" + objComport.geterrordescription(objComport.lasterror));
      }        

      
      if( objComport.IsOpened == -1 ){

        

        objComport.WriteString( "AT#CLS=8" );
        
        objComport.Sleep(1000);
          
        objComport.WriteString( "AT#VRN=0" );
        
        objComport.Sleep(1000);
          
        objComport.WriteString( "AT#VLS=6" );
        
        objComport.Sleep(1000);

        
        strDailstring = "ATDT0," + telephonenumber;
          objComport.WriteString( strDailstring );
        }
 
        
}


//########################## Function hang up ##################################

function hangUp(){
  
  
  objComport.WriteString("ATH");
  
  
  objComport.Close();
  

}