Monitor Trend Micro Internet Security status on your network computers
Monitor Anti-Virus and Internet Security suites
With ActiveXperts Network Monitor, you can monitor most important Anti-Virus and Internet Security suites available today. Simply select 'New Monitoring Check' from the 'Monitor' menu, select the 'Anti-Virus / Internet Security' check and fill in the required parameters.

It checks the Trend Micro Internet Security services and processes, and optionally checks the virus definition files to see if version and/or date of the files are OK. The check can easily be extended by the user to monitor additional aspects, e.g. log files, dll versions of the software, number of files in quarantine, etc.
Monitor Trend Micro Internet Security
You can configure the Trend Micro Internet Security check in the ActiveXperts Network Monitor dialog below, to see if the software is running properly.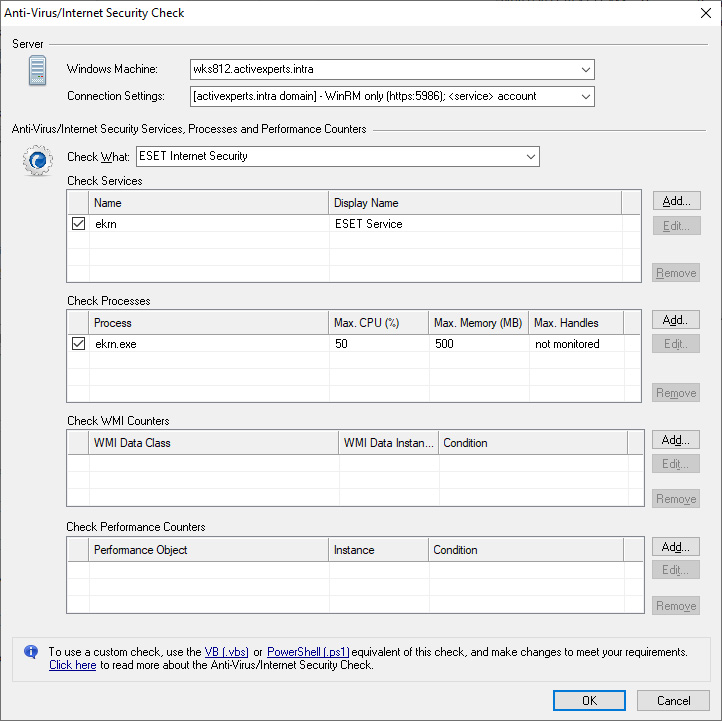 ActiveXperts Network Monitor Trend Micro Internet Security check
About Trend Micro Internet Security
Trend Micro Internet Security provides smart, up-to-date protection for your home network against present and future threats without slowing down your PC.
Smart security features in Trend Micro Internet Security protect the computers in your home as you email and browse online:
Prevents email and image spam from reaching your inbox
Halts access to dangerous web pages
Stops websites from installing dangerous downloads on your computer
Get security updates when you want it through State Aware. Our software stops security updates or downloads when you are doing presentations, watching movies, or playing games and resumes only after you complete your activities.
Quick Scan allows you to quickly find and remove most malware when you are running short on time.
Enhanced parental controls help you take charge of where and when your children go online:
Block websites with inappropriate content based on specific categories
Choose what times and for how long your children are allowed to go online
Monitor online activity reports to fine-tune your controls if necessary
Trend Micro Internet Security safeguards your computer and personal information against latest threats:
Detects and removes viruses, spyware, and other malicious threats from your computer, email, instant messages and downloads
Prevents unauthorized users from changing your critical applications, without impacting your PC's performance
Secures your home network with a personal firewall and Wi-Fi patrol