Monitor Norman Anti-Virus status on your network computers
Monitor Anti-Virus and Internet Security suites
With ActiveXperts Network Monitor, you can monitor most important Anti-Virus and Internet Security suites available today. Simply select 'New Monitoring Check' from the 'Monitor' menu, select the 'Anti-Virus / Internet Security' check and fill in the required parameters.

It checks the Norman Anti-Virus services and processes, and optionally checks the virus definition files to see if version and/or date of the files are OK. The check can easily be extended by the user to monitor additional aspects, e.g. log files, dll versions of the software, number of files in quarantine, etc.
Monitor Norman Anti-Virus
You can configure the Norman Anti-Virus check in the ActiveXperts Network Monitor dialog below, to see if the software is running properly.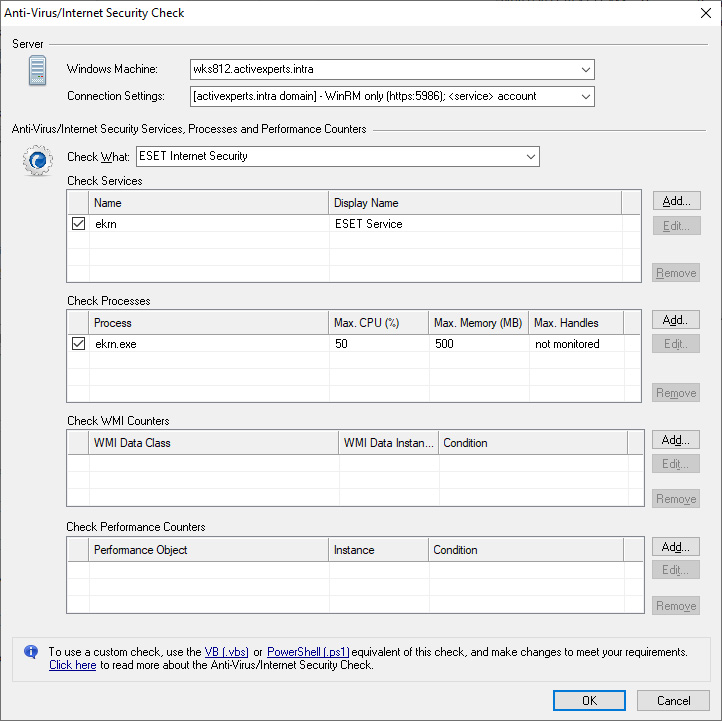 ActiveXperts Network Monitor Norman Anti-Virus check
About Norman Anti-Virus
Norman Antivirus and Antispyware is easy to use. It includes a menu that has some options in an intuitive spot, while leaving others deep within a maze of menu options that can be rather difficult to navigate. For most users, Norman Antivirus and Antispyware has a default configuration that should help to keep them from having to navigate the maze of options and changes that can be made.
Norman is certified by VB100%, WCL Level 1, as well as ICSA Labs. It offers protection that is standard to the middle of the pack of antivirus solutions. Norman has shown a commitment to solidifying their scanning abilities by continuing to enhance their antivirus engine. The current engine, while slow in some cases, is another shining example of Norman's commitment.
Updates are released daily on average. There is also the ability for Norman to push an update if there is a significant threat found. You have the ability to manually update, or set a time each day to look for new updates.
Norman Antivirus and Antispyware includes the basic antivirus and antyspyware scanning. Also included are quarantines for both, as well as task scheduling and email protection. The email protection is based on the protocol that is used for gathering and sending email rather than integrating with specific email programs. This allows scanning of email attachments to occur no matter what program you use to handle your email.
Norman Antivirus and Antispyware is solid option to keep your computer safe from the terrors of the Internet. It includes an award winning antivirus scanner as well as an antispyware scanner. The software does suffer from some issues with overall system lag, but these are due to the on-access scanner, and can be minimized for each system according to Norman's support site.