Monitor Kaspersky Anti-Virus status on your network computers
Monitor Anti-Virus and Internet Security suites
With ActiveXperts Network Monitor, you can monitor most important Anti-Virus and Internet Security suites available today. Simply select 'New Monitoring Check' from the 'Monitor' menu, select the 'Anti-Virus / Internet Security' check and fill in the required parameters.

It checks the Kaspersky Anti-Virus services and processes, and optionally checks the virus definition files to see if version and/or date of the files are OK. The check can easily be extended by the user to monitor additional aspects, e.g. log files, dll versions of the software, number of files in quarantine, etc.
Monitor Kaspersky Anti-Virus
You can configure the Kaspersky Anti-Virus check in the ActiveXperts Network Monitor dialog below, to see if the software is running properly.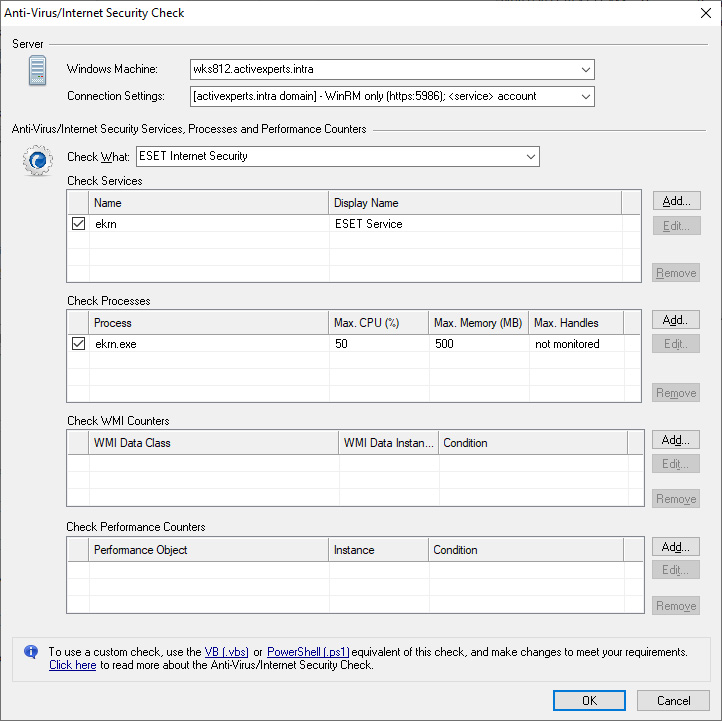 ActiveXperts Network Monitor Kaspersky Anti-Virus check
About Kaspersky Anti-Virus
KasperskyŽ Anti-Virus combines reactive antivirus detection with the latest proactive technologies to provide your computer with solid and dependable protection against malicious programs. Beginners in particular will be pleasantly surprised to find a product that is simple to install and set up, while more advanced users will find a highly adaptable product that can be easily tailored to suit their individual requirements.
Key Features:
Protection from viruses, Trojans and worms
Protection from spyware, adware and other potentially hostile programs
Antivirus scanning for removable data storage media
Scanning and disinfection of archived files
Protection from dangerous macros in Microsoft Office documents
Rollback of changes made by malicious programs on your computer