Monitor avast! Anti-Virus status on your network computers
Monitor Anti-Virus and Internet Security suites
With ActiveXperts Network Monitor, you can monitor most important Anti-Virus and Internet Security suites available today. Simply select 'New Monitoring Check' from the 'Monitor' menu, select the 'Anti-Virus / Internet Security' check and fill in the required parameters.

It checks the avast! Anti-Virus services and processes, and optionally checks the virus definition files to see if version and/or date of the files are OK. The check can easily be extended by the user to monitor additional aspects, e.g. log files, dll versions of the software, number of files in quarantine, etc.
Monitor avast! Anti-Virus
You can configure the avast! Anti-Virus check in the ActiveXperts Network Monitor dialog below, to see if the software is running properly.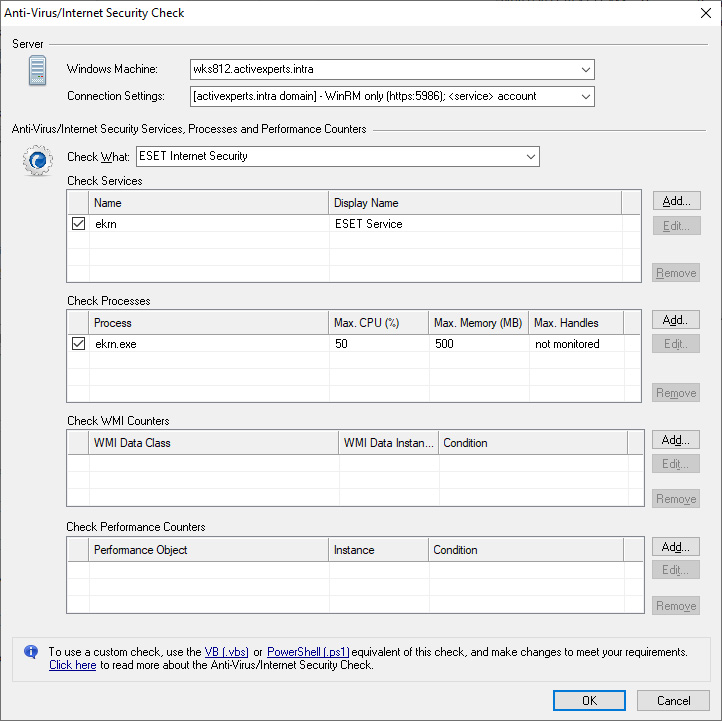 ActiveXperts Network Monitor avast! Anti-Virus check
About avast! Anti-Virus
avast! 4 Home Edition is an antivirus package designed exclusively for non-commercial & home use. The Home Edition is offered free of charge.
The avast! antivirus kernel features detection abilities, together with high performance. You can expect 100% detection of In-the-Wild viruses (viruses already spreading between users) and excellent detection of Trojan horses.
The kernel is certified by ICSA. The avast! engine features outstanding unpacking support. It can scan inside many archive files, including: ARJ, ZIP, DBX (Outlook Express archives), RAR, TAR, GZIP, CAB, ARC, TNEF (winmail.dat), CPIO, CHM, ISO and more. It also supports a number of executable packers (such as PKLite, Diet, UPX, ASPack, PeShield, FSG, MEW etc.).